Shingeki No Kyojin In The News, Vol. 7: Stuff That Make You Go Aww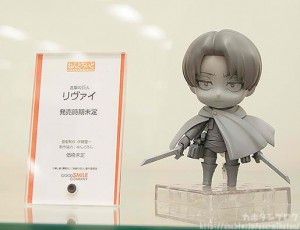 It's already Asgard's seventh healthy serving of Shingeki no Kyojin In the News and in this week's edition, we show you the cutest Shingeki no Kyojin (進撃の巨人) characters immortalized in their chibi form with these awesome collectibles!
The latest addition to the Shingeki no Kyojin series of Good Smile Company Nendoroids is Lance Corporal Levi (リヴァイ). His unpainted prototype was first unveiled during the Animate Girls' Festival 2013 (アニメイトガールズフェスティバル2013). Levi's adorable chibi version stood beside the Eren Jaeger (エレン・イェーガー) Nendoroid which is currently available for pre-orders. The notable Shingeki no Kyojin pair also came with tons of other Shingeki no Kyojin merchandise.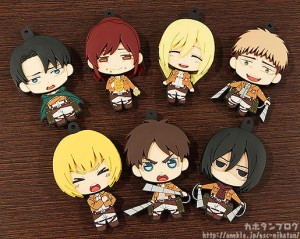 As mentioned above, Levi and Eren came with other Shingeki no Kyojin items including these way cute rubber key chains. What makes these key chains awesome is that if you get bored of their faces, you can simply swap them with another facial expression that comes with the key chains. The lucky characters that get their own key chains are Eren Jaeger, Mikasa Ackerman (ミカサ・アッカーマン), Armin Arlert (アルミン・アルレルト), Lance Corporal Levi, Christa Renz (クリスタ・レンズ), Sasha Braus (サシャ・ブラウス) and Jean Kirschtein (ジャン・キルシュタイン).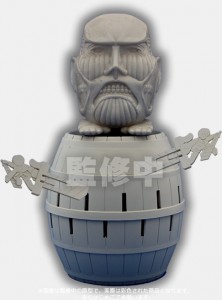 The Colossal Titan (超大型巨人) isn't far behind the cute department thanks to Japanese toy company, Tomy (株式会社タカラトミー ). The face of the Shingeki no Kyojin series has his own limited edition Pop-up Pirate toy complete with a barrel based on the Wall (ウォール), 24 Survey Corps (調査兵団) swords and of course, the Colossal Titan peeking over the barrel. The Pop-up Pirate toy was first introduced in Japan in 1975 as Blackbeard in Danger (黒ひげ危機一発). The object of the game is to insert swords in the barrel and make sure the pirate stays inside it, otherwise the player who launches the pirate out of the barrel loses the game.