Shingeki no Kyojin In The News, Vol. 4: Twerking Titans, Levi Stickers And A Titan Costume For Sale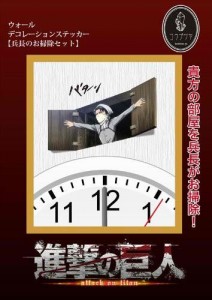 Hard to believe but Shingeki no Kyojin (進撃の巨人) In the News is at it again and on its fourth healthy serving to give you the latest SnK news! If you've been following Asgard Anime's Shingeki no Kyojin In the News, you might have read about the reusable stickers that are work great as room decorations. Lance Corporal Levi (リヴァイ兵長) is the latest addition to the sticker craze with his infamous pose of dramatically opening a window forever immortalized in sticker form! Grab this sticker for only 840 JPY (8.55 USD). Also available for the same price is a silhouette sticker sheet featuring the Survey Corps with Lance Corporal Levi, Mikasa Ackerman (ミカサ・アッカーマン) and Eren Jaeger (エレン・イェーガー).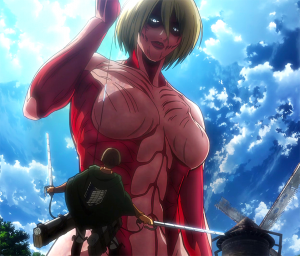 Before Miley Cyrus has shocked the world with her outrageous twerking performance in the MTV Video Music Awards (VMAs) 2013, a hulking Female Titan (女型の巨人) made fans of the series double up with laughter or blanched as if they saw the real thing. Created by Youtube user, legal2anime, the short clip features Annie Leonhardt (アニ・レオンハート) doing her thing before transforming into the Female Titan and still twerking it. Watch the video below and tell us what you think about this twerking of epic proportions.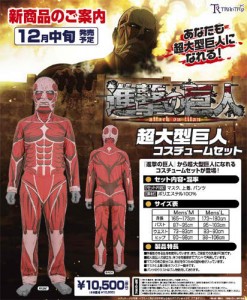 Cospa is at it again and thanks to this awesome Japanese anime goods maker, you can dress up as the Colossal Titan (超大型巨人) in cosplay events and parties! Under Cospa's Tran Trip line, the Colossal Titan suit is available for only 10,500 JPY (106.95 USD) and comes in 2 sizes, medium and large. Now you can go around in cons and be awesome like D. Piddy! Speaking of D. Piddy…