Attack On Titan Goodies In The News: Stickers, Pillows And A Hot Ferrari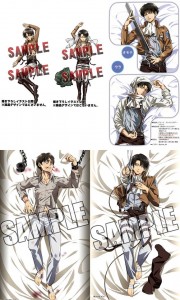 Let's face it. Hajime Isayama's (諫山 創) Attack on Titan (進撃の巨人) is rapidly getting famous and oodles upon oodles of collectibles, food items and other goodies are pouring from all sides. Asgard Anime gives you a lowdown on the latest Attack on Titan items that should be in your collection with the Attack on Titan Goodies In The News. Hold on to your piggy banks and read on!
If you think only the guys can have hot hugging pillows, you certainly have another thing coming. Japanese anime goods company, Movic (ムービック), has already began accepting orders for their Eren Jaeger (エレン・イェーガー) and Levi (リヴァイ ) hugging pillows. Both pillows are sized at 50 cm x 150 cm and are priced at 9,450 JPY each (94.33 USD). The pillows will be shipped on September 19, 2013.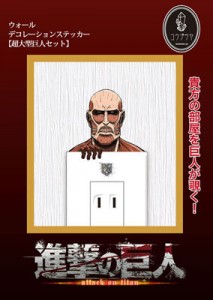 If you think your room is looking a little dull and you're planning to give it an anime-inspired overhaul, give this one a shot. Another Japanese character goods company called Masameya is selling reusable stickers that are just perfect for decking out your room or scaring the lights of someone in the bathroom. The stickers are a good 110 x 150 mm size and are priced at 750 JPY (7.49 USD) per set. While these are to be released on August, you can pre-order your stickers at the CDJapan website. Pre-orders will only be entertained until July 30, 2013.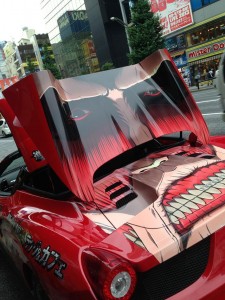 Here's the news that everyone is waiting for. An Attack of Titan itasha (痛車) has been finally revealed and the fact that its a Ferrari 458 Spider makes it even cooler. The price for this awesome Ferrari is estimated to be at around 400,000 USD topped with another whopping 6,000 USD for the Titan make-up. Together with the Titan Sale Promotion Group leader, Kyojin-Kun, they will be out and about in Akihabara, Ikebukuro, Shibuya and Shinjuku to promote the Attack on Titan Volume One DVD and Blu-Ray set. If you're in Japan, don't miss out on Kyojin-Kun riding shotgun in this awesome itasha! Check out Kyojin-Kun in action with the Attack on Titan Ferrari below.