Shingeki Casts Gets Super Deformed, Mushroom Style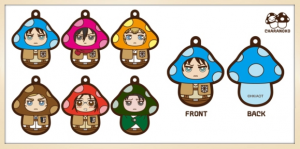 While it's rare to see the Survey Corps (調査兵団) and the rest of the Shingeki no Kyojin (進撃の巨人) characters in chibi form, here's another chance at seeing them overflowing with cuteness. Japanese Character goods company, Cafereo, has offered Shingeki no Kyojin rubber key chains for sale and the Survey Corps are in mushroom gear.
The Survey Corps key chains are composed of protagonists Eren Jaeger (エレン・イェーガー), Mikasa Ackerman (ミカサ・アッカーマン) and Armin Arlert (アルミン・アルレルト). Joining them are their Survey Corps higher ups with Commander Erwin Smith (エルヴィン・スミス団長), Squad Leader Hanji Zoe (ハンジ・ゾエ) and Lance Corporal Levi (リヴァイ). These six make up the group of mushroom kigurumi (着ぐるみ) rubber keychains. The key chains bear their signature facial expressions from the non-chibi form from Levi's uninterested look to Hanji's dreamy face when a Titan is encountered. Flip the key chain and you'll see a full image of a cartoon mushroom. What does the mushroom have to do with Shingeki no Kyojin? Nothing. It still looks downright adorable though.
The rubber key chains are sold at 500 JPY (5.14 USD) a piece while getting them as a boxed set costs 3000 JPY (30.82 JPY). If you find these cute, mark your calendars because these babies will be out on January 2014! Read up more about these only at the Cafereo website!