Series Info for Machine-Doll wa Kizutsukanai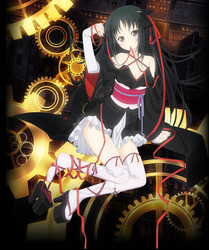 Heads up, anime fans and otakus, another doll series is coming your way! An anime adaptation has been announced for the Reiji Kaito and Ruroo manga Unbreakable Machine Doll (機巧少女は傷つかない). Its official website has revealed 4 cast members and the staff for the project, which are the same as the 2010 drama CDs. Shizuka Itou, Yuuki Ono, Yuuki Kaji, Yui Ogura, Ai Kayano, Takahiro Sakurai, Asuka Nishi, Mamiko Noto, Kana Hanazawa, Risa Taneda and Yukana have announced to be in the series' cast, although the names of their characters have not been disclosed.
Alongside them is Megumi Takamoto as Charlotte Blue, Jouji Nakata as Sigmund, Kana Asumi as Frey and Nobuhiko Okamoto as Loki.
The plot for Unbreakable Machine Doll is set on the early 20th century, where Raishin Akabane is a student puppeteer from Japan. He has come to England's Walpurgis Royal Academy of Machine Arts in order to learn about the emerging theme of Machinart. This course is a combination of magic and technology used for military tactics. Raishin is accompanied by a girl named Yaya, who is his Automaton—a living machine doll powered by magical wirings and specializes in hand to hand combats.
The Academy features combat tournaments exclusive to the Top 100 students and their automata, and the winner will be bestowed the title of "Wiseman," the greatest puppeteer among them all.
Kijiri Yoshimoto will be directing the anime at Lerche, basing off from the scripts done by Yuuko Kakihara. Atsuko Watanabe will do the character designs and the productions studio GENCO will create the anime. Key visuals featuring the main heroine Yaya has been featured in the website.
Raishin will be played by Hiro Shimono and Hitomi Harada will play Yaya. The anime premieres in Japan this autumn.