Sekina Aoi's Manga Green Lit for Anime Adaptation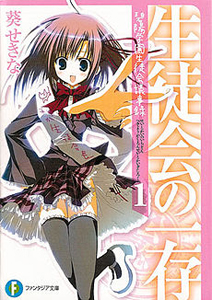 Fall is a season filled with old anime favorites and new releases. Just recently, the Japanese production group Kadokawa, has began streaming an interesting promotional teaser for their upcoming new project, Sekina Aoi's Seitokai no Ichizon (The Discretion of the Student Council). The series, illustrated by Kira Inugami, has been first released on 2008 and was published under the Fujimi Fantasia Bunko brand—a label created by Fujimi Shobo.
Originally known as the Hekiyou Gaien Seitokai Gijiroku (The Minutes of the Hekiyou Academy Student Council), the title was changed according to the subtitle of the series' first volume, to which it has been presently known as the Seitokai Series.
The story revolves around Ken Sugisaki, a former low rank student who was able to get into the Student Council by becoming a valedictorian in his class. He holds the position of the vice president, where he is surrounded by the cute and charming Student Council members, as he is the only male. Each of the girls had their own issues, but they turn to love Ken in a very different way as the series continue.
In this anime project, the cast includes Mina as the voice of Sohara Mitsuki, Kanami Mihara as the voice of Chizuru Akaba, and Iori Nomizu will take the role of Mafuyu Shiina.
Masahito Onoda will head the character design; wherein AIC will produce the new series. Kenichi Imazumi is slated as the project;s director with the script editor Reiko Yoshida. Seitokai no Ichizon has previously been animated in 2009 by Studio Deen.
Currently, the anime production has not yet revealed a title for the series, but has made a contest to determine the anime's name. This was announced in July, and the final title will be revealed in the premiere episode. The Seitokai no Ichizon adaptation will premiere on October 13, with an opening theme song performed by the cast. It is also available on the streaming website Nico Nico on the same date, 11:30 pm in Japan.