Samurai Flamenco Cast and Characters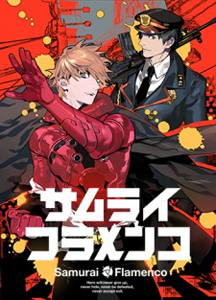 Just recently, the details for the upcoming Samurai Flamenco anime series has been revealed in Fui TV's Noitamina programming block. A promotional video shares the staff and characters for the series which will debut this October and will run for half a year. Takahiro Omori will be directing the series while Chinatsu Kurahana will design the characters. The taglines perk up any reader's curiosity as it reads,
To the 'adults' who don't want to become adults…
The characters are as follows:
Mazayoshi Hazama, 19 years old. Model for a male fashion magazine. His grandfather used to love tokusatsu / special effects hero shows; that love was passed onto him. He desired to be a hero ever since he was a child. Due to his grandfather's invention, he is able to debut as the new hero called "Samurai Flamenco."

Hidenori Goto, 24 years old. He serves as a policeman and is very diligent at work. However he doesn't have a strong sense of justice. That changed when he encounters Samurai Flamenco.
Mari Maya, 18 years old. She is the central member of the idol group called Mineral Miracle Muse. She is very talented and can compose songs, able to connect with anyone without any discrimination. Her bubbly and warm personality makes her liked by everyone around her.

Moe Morita, 17 years old. Member of the same idol group as Mari, she has a reserved and carefree personality. She can speak English very well.

Mizuki Misawa, 19 years old. She is the leader of the Mineral Miracle Muse. Coming from Kansai, her attitude is very motherly and she takes care of the group.

Another tagline for this series is "A hero will never give up, will never hide, will never be defeated, will never accept evil." Samurai Flamenco will be animated in Manglobe with art director Hiroshi Kato and animation director Tatsuo Yamada.