Vocaloid Artist Samfree Contributes to Mushibugyo Soundtrack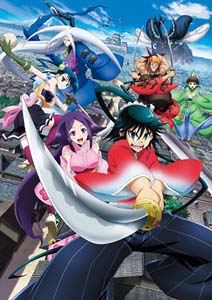 A big percentage of enjoying an animation is through music, and we know how Japanese does it nice and nifty, especially with the musical scoring, OP and ED themes, and the character songs. Here in this post, we bring you some good news, especially for vocaloid lovers, as one of your well known artists is contributing to an anime about to make a big splash this year.
On Saturday at the Anime Contents Expo, a stage event for the upcoming project Mushibugyo has announced that the song artist Samfree, known for his vocaloid songs Promise, Megu Megu☆Fire Endless Night and Luka Luka★Night Fever has created character songs for the series. The event has revealed two songs for the anime characters Haru and Hibachi.
Samfree has composed Haru Ooh Lala – Momoarura for Haru (Satomi Akesaka) and Gekijou Paranoia for Hibachi (Rumi Ookubo). The artist has written and arranged both of the songs and will be released as singles on May 22 for 1,260 Yen. This vocaloid artist is known for songs that features Hatsune Miko video games. Additionally, Samfree has contributed to other promotional campaigns, such as composing Oden☆My Life, and oden campaign for the convenience store chain LAWSON.
The anime project Muchibugyo is created by Hiroshi Fukuda. This original action-packed manga inspired series is set in the Edo-era Tokyo in the early 1700s. In the story, the eight shogun Tokugawa Yoshimune has created a powerful new magistrate unit called the Mushibugyo, in order to protect the people in the heart of the city. Each member of the team is known for their expertise in a unique fighting skill.
Mushibugyo will premiere on TV Tokyo on April 8, but for those who will not be able to watch it on their television, Crunchyroll will be streaming the series right on the same day!