Sakuraba Kazuki's Mystery Novel Gets Animated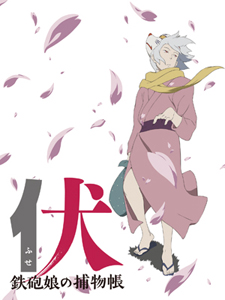 Popularly known as the GOSICK Author, Novelist Sakuraba Kazuki gets another of his works highlighted. His novel Fuse – A Gunslinger Girl Detective Story, is heading for an anime production set to be released this fall.
The animation revolves around a supernatural girl named Hamaji, living in a city located within the mountains. Staged during the Edo Period, this novel was evident of the inspiration where Sakuraba took the setting from, the popular Japanese Novel Nansou Satomi Hakkenden.
In the story, part human, part dog hybrids lurk all over the town, creating damages and crimes to the dwellers' properties. These monsters are called Fuse, which notes the amazing mergence of two capabilities by two natural creatures. Hamaji, ignited with a passion to stop these mishaps, starts hunting down these creatures along with her brother. Unfortunately, a hero is not without a foe. A descendant of a person named Takizawa Bakin follows her around and is being suspicious. One day, as Hamaji was chasing a fuse, she stumbles over their dark, gloomy story, which turns her world upside down.
Born in 1971, Sakuraba Kazuki has started writing her novels. Among her many creations, only her mystery thriller books have acquired much audience. The GOSICK series allowed her to have her work published among many print companies, which started her career. A Lollipop or a Bullet, another of her famed works, has ranked in the rankings of the Kono Light Novel Ga Sugoi in 2006. This book was so widely acclaimed that it was republished as a mainstream novel by Fujimi Shobo.
Thus ignites her taste for suspense and mystery category novels. She has published other thrilling titles as well, making her among the few light novelists able to push through the mainstream market. Her novel赤朽葉家の伝説 was nominated for the Naoki Prize in 2007. In 2008, she was nominated again, and she won this time with her work 私の男。.