Sailor Moon Goodies In The News, Vol. 3: Costume Undies, Compact Remakes And Mercury Goes ZERO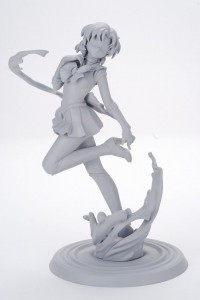 With the brand new Sailor Moon (美少女戦士セーラームーン) series part of the Winter 2014 anime lineup, who wouldn't be excited? The excitement burns brighter than ever with another row of Sailor Moon items that must be a part of every Moonie's collection. Asgard Anime brings you Sailor Moon Goodies In the News in its third heaping serving. Are you ready? Then read on!
The Sailor Senshi (セーラー戦士) have already been completed from Sailor Moon to Sailor Venus in Bandai's fully posable S.H Figuarts set but that doesn't mean they're stopping at that! Sailor Moon (セーラームーン) and the rest of the Senshis are now taking over Figuarts ZERO.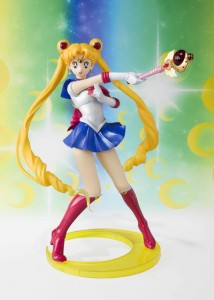 Figuarts ZERO is also a Bandai offering but unlike the S.H Figuarts, the Figuarts ZERO figures sculpted in permanent poses and the prices are easier on the pockets compared with its posable counterpart. Sailor Moon already has her own Figuarts ZERO and now its Sailor Mercury's (セーラーマーキュリー) turn! The unpainted prototype has been unveiled at the Volks Akihabara Showroom, Hobby Tengoku. While we wait for Sailor Mercury to be completed, grab Sailor Moon now while she's available for pre-orders!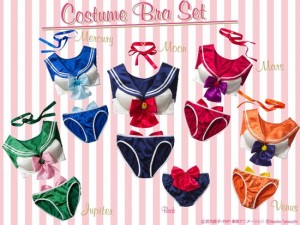 Bandai has partnered with Japanese lingerie company, Peach John (株式会社ピーチ・ジョン), to give you more reason to enjoy Sailor Moon! With their collaboration, Premium Bandai and Peach John bring you a series of Sailor Moon underwear that are too cute to miss! Part of their Sailor Moon lingerie lineup are the costume bra set (complete with the bra, panties and choker) priced at 4,980 JPY (48.26 USD) based on the colored fukus worn by the Sailor Senshi when they transform. The three other items are Sailor Moon pajama set with the same price as the costume bra set. If you find them too pricey, check out the simple pink and blue Sailor Moon bra sets priced at 3,980 JPY (38.57 USD) or the Sailor Moon Panty set priced at 1,800 JPY (17.44 USD). A Sailor Moon Panty set comes with two panties. Check out Premium Bandai's official website for more information and designs!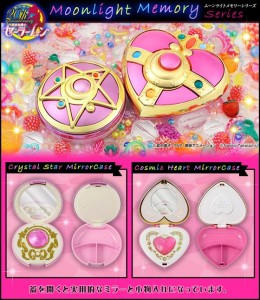 Not too long ago, Bandai has made a reboot of the toy Moon Stick (ムーン・スティック) first released in the 90's. Now, the 2013 Moon Stick is accompanied with the compacts Sailor Moon used to transform! Sailor Moon's transformation brooches, the Crystal Star (クリスタル・スター) and its upgrade, the Cosmic Heart Compact (コズミック・ハート・コンパクト) that appeared in Sailor Moon R (美少女戦士セーラームーンR) and Sailor Moon S (美少女戦士セーラームーン S) respectively, now have been given a 2013 remake! Priced at 4,725 JPY (45.79 USD) each, the new Sailor Moon compacts have been given an adult upgrade: it now has a mirror as well as compartments for items that women need. The transformation lines are also etched inside the compact. Grab these babies over at Premium Bandai now before it's too late!