Ryuko Matoi Nendoroid Ready To Be Taken Home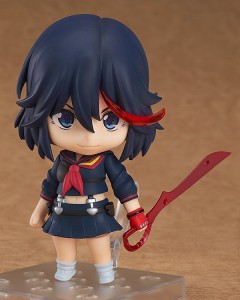 Ryuko Matoi (纏 流子) from Kill La Kill (キルラキル) may be a fiery school girl but her Nendoroid just screams kawaii. This Scissor Blade-toting little Nendo is poseable comes with a couple of facial expressions that are just too cute and too fierce.
Kill La Kill revolves around the life of 17-year-old high school student, Ryuko Matoi. Known for her ferocity and stubbornness, Ryuko transfers to Honnouji Academy (本能字学園) with the hopes of finding answers to the death of her father. The killer was thought to have used the other half of the Scissor Blade (片太刀バサミ) in which the pair of the weapon is within her possession. Later on, Ryuko changes her wardrobe from a simple white shirt with a ribbon paired with a black mini skirt and sneakers to a Senketsu (鮮血) – a living school uniform that gives her superhuman powers with her own blood as the payment.
Get this cute little Nendo via pre-order from the Good Smile Company's Online Shop, your Ryuko Matoi will get a free mini Scissor Blade! Kahotan made a quick review on the Ryuko Matoi Nendoroid so read up more here. Pre-orders are only available until April 16 so get your very own mini Ryuko as soon as you can!