Rurouni Kenshin: Behind the Scenes Footage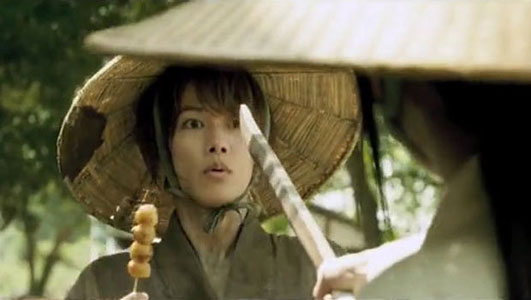 Rurouni Kenshin actor Takeru Satou shows off his Batousai moves in this behind-the-scenes promo release. This trailer showcases almost a five-minute preview on what is in store for this upcoming movie, where the lead actors are able to display their charisma as well as skill in performing their said roles.
Highlighted was the 22-year old actor Takeru Satou, who himself starred in various action roles in the past, such as Kamen Rider Den-O and Bloody Monday. Satou plays the kind and clumsy Himura, and proves that he could also wield a sword, as a proficiency mastered by the known samurai. Starring in this movie is the young model-actress Emi Takei, who plays the role of Kaoru Kamiya.
The original Rurouni Kenshin trailer, which was dubbed in many international languages, has sparked the attention of the story's manga and anime fan titles alike. The Live Action film adaptation started its filming process on August 2011 and finished on November of the same year. This 2012, the production company has continuously released previews of the movie, increasing the excitement of many viewers from all around the world.
William Ireton, one of the lead directors of the movie, has planned preparations to distribute the title overseas. He states that "Kenshin will be loved by the international audience." Rurouni Kenshin is among Japan's most famous manga titles, which started its serialization through the 1994-1999 releases of Weekly Shonen Jump. Totaling to about 28 volumes, the manga centers on Himura Kenshin, an ordinary-looking man who secretly was known as the Hitokiri Battousai, an assassin whose name was feared during the Meiji Era. Kenshin, after experiencing a personal trauma and an x-marked scar, starts on his wandering as a normal man with a back-edged sword in his pledge to protect, and not to kill anymore.
See the Behind the Scenes footage in the video below: