Rumiko Takahashi Pays Tribute to Variety in Rumic Theater
T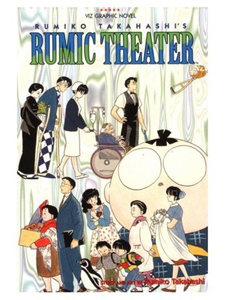 he 2012 6th issue of Big Comic Original (Shogakukan) Magazine have stated that a live action of popular mangaka Rumiko Takahashi will be produced.
The story, Rumic Theater (Takahashi Rumiko Gekijou /高橋留美子劇場), will be shown on NHK-BS Premium channel this coming July. Rumic Theater is a collection of many short stories, all based on people in every walks of life. Details of the project are still to be announced.
Originally compiled into 4 volumes, Rumic Theater has inconsistently numbered editions and includes various plots. American publisher Viz Media has published some of these volumes in North America, inspiring the Geneon's release of the Rumiko Takahashi Anthology in the US back in 2003. The latest addition to the Rumic Theater is the Yamashii Dekigoto, or the Shameful Incident, which is released on the Shogakukan's Big Comic Original.
Rumiko Takahashi is one of Japan's most prominent artists. Her works, as well as the anime adaptations that go with it, are certain hits worldwide; all translated into different tongues. She is one of the best selling female mangaka in history, presently with 170 million copies of her works being sold. Among her biggest achievements is winning the Shogakukan Manga Award twice for the titles Urusei Yatsura and Inu Yasha.
Born in Niigata Japan, she unvelied her potential in illustration and comics during her youth. Rumiko Takahashi was said to regularly draw within the margins of her papers during her classes in the Niigata Chuou High School. She aimed to be a professional mangaka since she was a child, which ultimately led her to enrolling in the Gekiga Sonjuku, the school founded by manga artist Kazuo Koike. Koike, whose works has been evident in the titles Crying Freeman and Lone Wolf Club, guided Rumiko during her doujinshi creations. Apparently, he plays a great role influencing Rumiko Takahashi's arts in her entire career.
Rumiko Takahashi is the genius behind Ranma 1/2, a popular series which tells the story of the boy who turns into a girl when splashed on by cold water. Her popular works also include Maison Ikkoku, Inu Yasha, Urusei Yatsura and RIN NE.