Robico's Tonari No Kaibutsu-kun to be Animated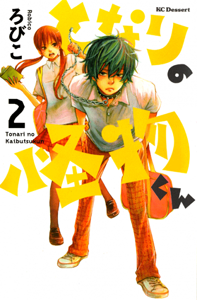 As announced in the July issue of the magazine "Dessert," Robico's manga Tonari no Kaibutsu Kun is about to get its own anime adaptation, coming this year's fall season.
The popular hit novel series is a romantic comedy, following the story of two students in their high school years, and their relationship with their classmates. Mizutani Shizuku is a young, studious girl whose focus is only on her grades rather than to make friends. Intent on graduating at the top of her class, she cares only for her future. Sitting beside her in class is Yoshida Haru, a known troublemaker. Having been involved in a fight, Yoshida stopped going to school.
By a twist of fate, Shizuku is sent out to deliver the class printouts to him. However, by this gesture, Yoshida thought that they are already friends. Starting from then on, Shizuku began her friendship with Haru, learning of his innocence in spite of his terror façade. It was then when Haru grew feelings for her, and in return, starts confessing his love for his genius classmate.
The Tonari no Kaibutsu-kun anime will be directed by Kimi ni Todoke's director, Kaburagi Hiro. Takagi Noboru of Sankarea will be the story editor. Brains Base, who has various titles such as Natsume Yujin Chou and Durara! will be handling the animation.
Voice cast includes:
Tomatsu Haruka as Mizutani SHizuku,
Suzuki Tatsuhisa as Yoshida Haru,
Tanesaki Atsumi as Natsume Asako,
Osaka Ryota as Sasahara Souhei,
Terashima Takuma as Yamaguchi Kenji,
Hanazawa Kana as Oshima Chizuru,
Higuchi Tomoyuki as Micchan
and Nakamura Yuchi as Yoshida Yuzan.
Tonari no Kaibutsu-kun is a manga launched by Robico starting 2008. The publication company Kodansha has published the ninth compiled book volume this March 2012. The story became a popular hit for teenagers, being of a light-novel with a shoujo theme plot.
Additionally, manga Sukitte-ii na yo will also have its own animation, as stated in the same magazine.