Rinko Ueda Launches New Manga About Sake Brewers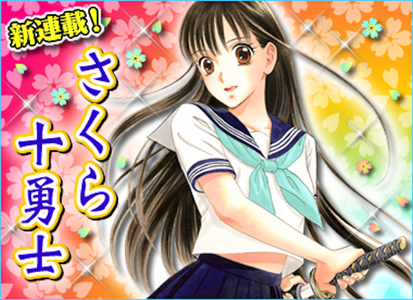 The 17th issue of the 2012 Margaret Publication by Shueisha has revealed to begin the serialization of Rinko Ueda's Sakura Juuyuushi. This romance manga will be seen in the book's pages starting August 4. The Stepping on Roses author has also been known on other titles, such as Tail of the Moon, Home, and the Margaret Selection, "Not Friend But…" manga. Most of her works have appeared on Shueisha's Margaret, Cobalt and the magazine Ribon. Ueda has been known to produce shoujo based stories.
Her new title, Sakura Juuyuushi takes a highlight on a modest family of brewers living in modern Japan. The manga takes a nice play on the popular story, Sanada Juuyuushi, to which plot recounts the adventures of the 10 ninjas who assisted the popular warlord, Yukimura Sanada, during the times of the Warring States in the country. Just like in the plot from which it was taken, Sakura Juuyuushi also promises adventure and action, a curious girl who turns into a sword wielding warrior.
The family of Sakura has been known as sake brewers, and their expertise in this crafts has been known for centuries. Their name has always been associated with the good, celebration drink, to which this modest family follows the line of their ancestors who produced the same quality liquor. One day,the daughter of the household delves deep into their home and discovers a covered katana in her familiy's warehouse.
Instead of leaving it there, or giving it back to the elders, she unsheathes it. Her adventure begins when she saw the sword shining in its full glory in front of her, is if there was a hidden power waiting to shine. Just like its inspiration, Sakura Juuyuushi promises an action-packed adventure, shoujo style.
Just this year's February, Ueda has finished her manga Stepping on Roses, or Hadashi de Bara wo Fume. Viz Media published the title after her Tail of the Moon Manga.