RDG Characters for Red Data Girl Revealed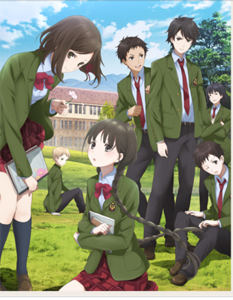 Japanese studio Kadokawa Pictures has recently announced the cast and characters for the upcoming television anime series, RDG Red Data Girl. Previously, they have revealed the main cast along with their roles, and here are some of your favorite voice actors joining the crew:
• Saori Hayami as Izumiko Suzuhara
• Kouki Uchiyama as Miyuki Sagara
• Madoka Yonezawa as Mayura Sōda
• Kaito Ishikawa as Manatsu Sōda
• Ryohei Kimura as Masumi Sōda
• Jun Fukuyama as Yukimasa Sagara
• Rie Kugimiya as Satoru Wamiya
• Hirofumi Nojima as Ichijō Takayanagi
• Emi Sarah Bridcut as Jeanne Honoka Kisaragi
• Akira Ishida as Hodaka Murakami
• Romi Park as Yukariko Suzuhara
• Kazuhiko Inoue as Daisei Suzuhara
The series' plot revolves around a girl named Izumiko, raised within the confines of Tamakura Shrine. This is one of the Kumano Shrines that are part of what is considered as a World Heritage site. She destroys any foreign device she comes in contact with. In spite of being shy, she longed for the city. Izumiko spent her whole life in Kumano that it was quite a change when she and her childhood friend Miyuki enrolled in Houjo High School, located in Tokyo, at the recommendation of her guardian. During her trip in Tokyo, she encounters an entity named Himegami. This is when Izumiko learns that she is a yorishiro, a vessel for a Shinto spirit known as the kami. Miyuki on the other hand, discovers that he is a yamabushi—a warrior guardian which is tasked of protecting Izumiko.
RDG Red Data Girl (RDG レッドデータガール) is a series of fantasy literature created by Noriko Ogiwara. The first volume for the plot was published in 2008 by Kadokawa Shoten, and presently five volumes have already been released. The latest publication from the title was in 2011. The anime studio PA works is creating this project, directed by Toshiya Shinohara. Michiko Yokote is handling the scripts while Minako Shiba adapts the original character designs.