Red Data Girl (RDG) Animation In the Works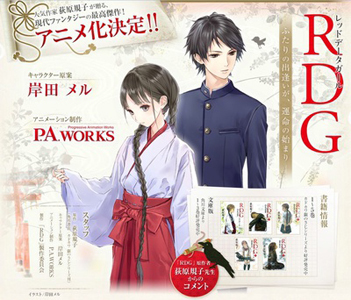 Recently, the Kadokawa Group Publishing has announced that an animation adaptation of the RDG Red Data Girl by Noriko Ogiwara has been green-lit. The modern fantasy novel series is about to take its place on the screens along with the many manga to animation works.
The story trails after the happenings in the lead character Izumiko Suzuhara's life. A girl which has been raised within the boundaries of the Tamakura Shrine, she has little or no knowledge about the world outside her walls. The Tamakura Shrine is one of the sacred Kumano Shrines, a part of the many World Heritage sites. Izumiko spends her life within these precincts until her middle school years. However, at her entrance at junior high, everything changes.
It has been decided that she and her childhood friend, Miyuki, will be enrolled at the Houjou High School in Tokyo. The lifestyle, the atmosphere, the people and the surroundings are fare different to what Izumiko has grown up to know. She becomes startled at the many differences to which it took her a long time to adapt. Her journey to a new chapter began during her school trip to the city, where a mystifying creature known as Himegami appears and a damaging incident occurs.
Izumiko's family has been long keeping a great secret which she is about to find out during her new life in a new world in Tokyo.
RDG Red Data Girl was launched by Ogiwara after creating the Nishi no Yoki Majo – Astraea Testament / The Good Witch of the West. Tokyopop Publications printed the manga in North America, and has co-produced an associated animation adaptation along with it.
Meanwhile, the fifth volume for the RDG novel was shipped in October. The official website for the project just opened this July and has revealed that the animation studio PA works will be producing this series.