Pretty Rhythm Rainbow Live Anime Reveals Characters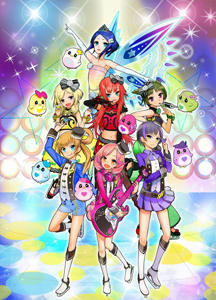 In the official website for the up and coming shoujo fantasy Pretty Rhythm Rainbow Live anime comes the cast and crew of the project. The details has been launched on Saturday and started streaming the television series' uberly cute promotional video. Voice actress Emiri Katou narrates the video as Naru Ayase, one of the cast. It also includes the opening theme song of the anime, Prizmmy☆'s cover of TRF's song "Boy Meets Girl."
See the main cast below:
Emiri Katō as Naru Ayase
Yū Serizawa as An Fukuhara
Mikako Komatsu as Ito Ryōno
Ayane Sakura as Rinne
Haruka Tomatsu as Beru Renjōji
Maaya Uchida as Wakana Morizono
Saori Goto as Otoha Takanashi
Kanae Itō as Meganee Akai
Tetsuya Kakihara as Yūji Kamihama
Tomoaki Maeno as Hiro Hayami
Toshiki Masuda as Kazuka Nishina
Chie Koujiro as Senri Ibara
Showtaro Morikubo as DJ.Coo
As a background info for the anime, Naru, An and Ito are Prism Stars which are under the Pretty Top class. Beru, Wakana and Otoha are their rivals, belonging to another office. The girl Rinne is tangled with amnesia, appearing to be emotionless until she sees Prism Shows. Rinne has made her debut unvoiced appearance in the Pretty Rhythm: My Deco Wedding Nintendo 3DS part of the original game.
Itou has already played the role of a fashion coordi guide Meganee in the Pretty Rhythm Aurora Dream. She has also narrated the arcade game. On the other hand, Sakura has played the heroine Ayami in the second anime series of the project, Pretty Rhythm Dear My Future.
The new plot will be staged in a different world from the previous anime. The story will trail after Naru Ayase, a creative and imaginative middle school girl in her second year. Her dream is to someday own a shop as fashionable as Dear Crown. One day, she discovers that a new clothing shop is looking to hire a middle school girl, with a requirement of knowing the Prism Dance. Naru takes the opportunity and applies, where she encounters a mysterious girl named Rinne.
The new anime has already premiered in Japan, so look out for the schedules and get engrossed with this kawaii candy musical world of Pretty Rhythm.