Pretty Cure Lipstick Gets Real Life Counterpart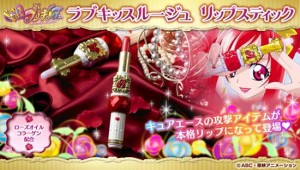 Little girls, and even the little girls in us, would still love to dress up and pretend to be the super heroes we find in anime such as Cure Ace (キュアエース) from Doki! Doki! Pretty Cure (ドキドキ!プリキュア). For Cure Ace fans, Bandai (株式会社バンダイ) has a special item just for you! You can now fire the Ace Shot (エースショット) with Cure Ace's Love Kiss Rouge (ラブキスルージュ) lipstick!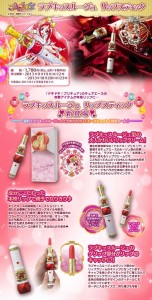 Bandai's take on the Love Kiss Rouge is a lovely lipstick designed intricately to look exactly like Cure Ace's own main weapon. Just like the anime version of the Love Kiss Rouge, the real life lipstick has a lipstick bullet whose shade is in mild red.
If you're new to PreCure, here's a little lowdown for you. Cure Ace appears in Doki! Doki! Pretty Cure, the tenth and the latest season of the Pretty Cure series. The ongoing series commemorates the 10th anniversary of Pretty Cure which will be celebrated this year. Voiced by the talented Rei Kugimiya (釘宮 理恵), Cure Ace first appeared in Episode 22 of the series and protected the other Cures from Regina (レジーナ).
Maybe it won't be long before we'll be seeing the Love Eyes Palette (ラブアイズパレット) next. The Bandai Love Kiss Rouge Lipstick is priced at 1,780 JPY (17.91 USD) and will be shipped this December. Grab yours via pre-order at Bandai Premium now!