Popular Detective Series Meitantei Conan Gets Another Live Action Special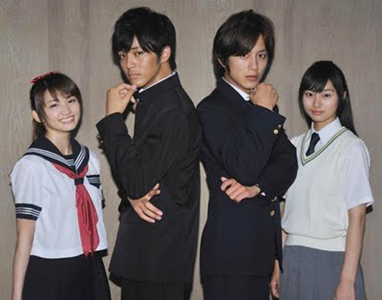 Shogukan Weekly's Shonen Sunday has recently announced that a special adaptation of Gosho Aoyama's hit mystery series Meitantei Conan is set to launch this spring. The live action special is tentatively dubbed as Meitantei Conan Drama Special: Kudo Shinichi Kyoto Shinsengumi Satsujin Jiken / Detective Conan Drama Special: Shinichi Kudo and the Case of the Kyoto Shinsengumi Murder. While the original manga trails after the clever high school detective trapped in a kid's body, present-day spin-offs are said to have been set before the manga, where Shinichi (Conan Edogawa) was still in his teenage years.
This live action will retain the same cast of the 2011 live action special and preceding episodes, which includes actor Junpei Mizobata (casted in Hana Kimi and High School Debut) as the lead role and Shiori Kutsuna (Beck, Mei-chan no Sitsuji) as his lady love. Tori Matsuzaka will play Conan's rival, Heiji Hattori; Rei Okamoto with the role of Heiji's female partner and Kazuha Touyama as the famed "sleeping" detective, Kogoro Mori. The two young mystery solvers, Kudo and Hattori, will compete with each other in trying to solve the case of the murder staged in Kyoto.
It must be known that there are already two previous Meitantei Conan Live Action specials with popular actor Shun Oguri (Hana Kimi, Hana Yori Dango), before Mizobata played the role. These adaptations aired in 2006 and 2007 respectively. In celebrating the 800th chapter of the original manga, Weekly Shonen Sunday is currently running a character popularity poll in their magazine.
Meitantei Conan has been published by Viz Media in the United States under the title Cased Closed. They are the same company that will publish the 42nd manga volume under the same title this coming April. Production studio Funimation has released DVDs for the television adaptation of the series, along with OAVS as well.