PA Works' Nagi No Asu Kara to Air in 2013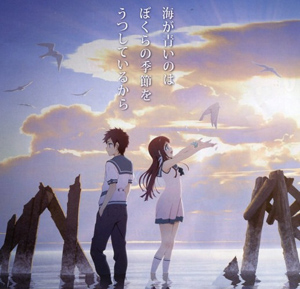 There is no doubt that animations created by PA Works always boast of something good. This popular animation studio has been known to work with Production IG, Bee Train and Tatsunoko Production, giving it the experience to produce well-known series in delightful animation details. The company is also known to be involved with video game animations, widening its brand towards various media.
PA Works and ASCII Media Works' Monthly Comic Dengeki Daioh Magazine produced original animation, Nagi no Asu Kara, has been scheduled to air in 2013, to the much anticipation of fans. The series' staff already announced the release dates after the screening of a promotional video at the event of Dengeki 20th Anniversary Festival at the Makuhari Messe on Saturday. This video reveals a new character in the anime, named Kihara, although the voice actor was not yet stated.
The singer, Ray, appeared in the event as a special guest. He also performs the image song for the anime, and the promotional video was able to capture short bits of the entire song.
Black Butler and Book of Bantorra's Toshiya Shinohara will be handling the direction of scripts as supervised by another of his former collaborators, Mari Okada. Okada is also known for her contributions in AnoHana and Hana-Saku-Iroha. Buriki of Haganai and Ground Control to Psychoelectric Girl will be in charge of the original character designs.
Popular voice actress Kana Hanazawa and Natsuki Hanae are revealed to play the leading roles. Hanazawa will be the voice actor for Manaka Mukaido, an indecisive middle-school girl who always cries. Hanae will take the role of Hikari Sakishima, Manaka's comforting childhood friend.
While this animation is still in the works, you can look forward to well-drawn anime with smooth movements only by PA Works. Stay tuned to know more about this and other titles here on Asgard!