Romantic Comedy Ore no Kanojo to Osananajimi ga Shuraba Sugiru Reveals Cast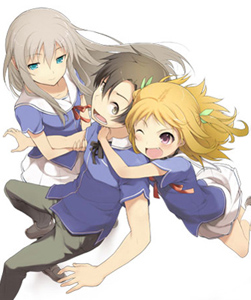 As mentioned before here in Asgard, romantic light novel Ore no Kanojo to Osananajimi ga Shuraba Sugiru (俺の彼女と幼なじみが修羅場すぎる) will have its own anime adaptation. Ore no Kanojo to Osananajimi ga Shuraba Sugiru, known simply as OreShura is a series written by Yuuji Yuuji and is illustrated by Ruroo. The first volume for this manga has been published by the SoftBank Creative under the GA Bunko Imprint in 2011, and five volumes have been released as of July 2012.
Recently, a train ad for this animation project franchise has just revealed the main cast for the anime version. The ad has been designed as a parody of ads found on regular Japanese tabloid newspapers and gossip magazines, attracted many attention as a hit news. The main cast lists down the following:
Eita Kidō – Ryota Ohsaka
Chiwa Harusaki – Chinatsu Akasaki
Masuzu Natsukawa – Yukari Tamura
Himeka Akishino – Hisako Kanemoto
Ai Fuyuumi – Ai Kayano
The OreShura light novel trails after the life of a boy named Eita. He has a childhood friend, Chiwa, who is like a little sister to him. He and Chiwa has a close relationship which includes hugging and glomping without any malice. However, a silver-haired girl named Masuzu just came from abroad, and in order to fend off unwanted attention (for this girl is quite a beauty), she makes Eita her fake boyfriend. Now this sets off a fiery feud between the two girls for Eita's affections!
A1 Pictures wil handle the animation, wherein Kanta Kamei will direct overall. Tatsuhiko Urahata will handle the series scripts and Mai Otsuka will adapt the original character designs. Masamoto Ota will handle the musical score.
OreShura will premiere in January 2013.