Ore no Kanojo to Osananajimi ga Shuraba Sugiru Anime Green Lit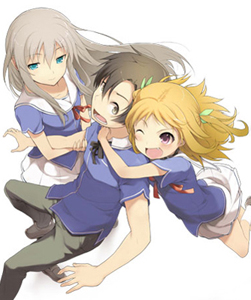 As revealed in the 2012 14th issue of Young Gangan Magazine by Square Enix, the animation adaptation for Ore no Kanojo to Osananajimi ga Shuraba Sugiru (also known for its shortened title, OreShura), is preparing for its launch. The magazine has been running the four-panneled manga adaptation of the series since October 2011, created by Marimo.
The romantic comedy light novel has been originally written by Yuuji Yuuji, with illustrations done by the artist Ruroo. The series follows the story of Eita Kidou and his tangled relationship between his childhood friend Chiwa Harusaki and his girlfriend Masuzu Natsukawa. Both girls have been consistently bickering with each other in order to fight for his attention. Kidou, who just enters high school with hopes to attend medical school, tries to abort any concerns about romance or love, due to his intention of maintaining his grades. His parents' recent divorce also added to the intensity of his goal, which turns out to be a struggle, on the day he meets Natsukawa.
Masuzu Natsukawa invites Kidou to walk home with her. Matsuzu, who grew tired of running after boys, suggested that they become a fake couple. This becomes a big news in the school, which alerts Harusaki, who tries to confront Masuzu in order to earn Eita's attention.
Ore no Kanojo to Osananajimi ga Shuraba Sugiru has been launched just last year, with its 5th volume currently shipping this July. Alongside this issue is the compiled volume of Marimo's version of the story. There are a few more editions of the title, such as Nanasuke's Ore no Kanojo to Osananajimi ga Shuraba Sugiru +H which is also shipped this month. The series originally run under Softbank Creative's GA Bunko Imprint in February 2011 and the publication has released 4 volumes.
The Anime will be produced by A-1 Pictures.