Oda Nobuna No Yabo Teasers Released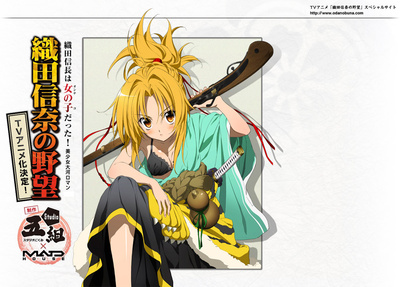 Among the new animations series set to premiere this spring season is Oda Nobunaga No Yabo, an interesting story of a young man transported into a gender reversed world staged in the Sengoku Area.
This new take on a modern to a historical event series brings an interesting take on time traveling. The gender bending phenomenon also brings a hilarious tinge in the whole series. Meant to attract anime fans who love female warriors dating back in time, this story is also a must see for ardent history followers.
Originally a light novel manga, the story centers on the modern day high school student Yoshiharu Sagara. Living normally, an unusual mishap caused him to be transported back in time to the Sengoku Jidai, an era of the Warring States. The time travel is past unbelievable, but what's more ridiculous is that the well known of the era's warriors are all females. Oda Nobuna, a dainty looking girl who is as cute as a button, turns out to be a warlord. She names the newcomer Yoshiharu as "Monkey," taking him, or her, into her place and nurtures her to become a good warrior.
The series has been inspired on a wordplay on Nobunaga no Yabo, literally translated as Nobunaga's ambition. The person depicted here is no other than the famed Japanese historical figure, Oda Nobunaga, who once lived during the war era. This inspiration was the same motivation that KOEI studio adapted in a game franchise. Miyama Zero has illustrated the original manga series.
Presently, Yuuji Kamazawa directs the overall adaptation, while Masashi Suzuki oversees the scripts. Yuka Takashina takes over in the character designs. Recently, various clips has been released for promotion, which hints the thrilling adventure awaiting for Yoshiharu in his new home, and body. See this video below and take a peek in Nobunaga no Yabo's world.