Obama Cameo in Takeshi Nogami's Latest Manga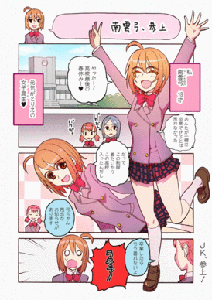 Known for the manga titles Sailor-fuku to Juusensha and Yamato Nadeshiko 007, Takeshi Nogami is launching an online manga named Marine Corps Yumi in the Sai-Zen-Sen website, beginning on Tuesday. The trails after the life of an ordinary high school student Yumi, who has an extraordinary goal in life—to join the Marine Corps of a country called Amerigo!
Not just a common pun intended for that new country, in real life, America was coined after the Italian explorer, Amerigo Vaspucci. Looks like someone has been reading history books all the time!
Completing the America-nized, or Amerigo-nized atmosphere is a cameo by the US President Barack Obama. The first chapter is made available online for free and can be downloaded through the website.
A young high school girl entering a strong and stern Marine Corps? Now that's a difficult desire for a bubbly and active Yumi. Will this young, ambitious girl be able to live a life of discipline and battle, far opposing the bright perks of her current high school life? Guess we'll just have to see what comes of this strange yet mighty dream. Trail after the Sai-Zen-Sen website to discover if she makes it—or not!
Alongside his original manga titles, Nogami is known to have contributed in several doujinshi titles and spin-off mangas, particularly in the Strike Witches Franchise. Kadokawa Niconico Ace, an online magazine by the Kadokawa Shoten, has published his creation of Strike witches: The Witches of Andorra manga, along with an English translation to boot. Nogami is also known to have co-created another doujinshi title, The Witches of the Sphinx, along with Takaaki Suzuki, who is the historical advisor of the Strike Witches anime project.
It must be known that Strike Witches is originally created by Humikane Shimada; a mixed media project which has been launched through a series of magazine illustrations.