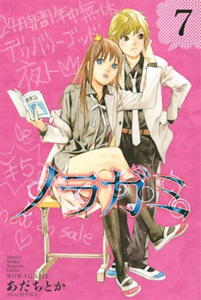 As seen in the November Issue of Kodansha's Monthly Shonen Magazine, the cast for the upcoming anime adaptation of Adashitoka's manga Noragami was announced as follows:
Hiroshi Kamiya as Yoto
Maaya Uchida as Hiyori Iki
Yuuki Kaji as Yukine
Aki Toyosaki as Kofuku
Asami Imai as Tomone (Mayu)
Daisuke Ono as Daikoku
Jun Fukuyama as Kazuma
Mikako Komatsu as Mutsumi
Miyuki Sawashiro as Bishamon
This is the same cast from the original drama CD which will be bundled along with volume 9 of the manga, scheduled to ship this December 17. The anime will be directed by Kotaro Tamura at the anime studio BONES. The scripts will be written by Deka Akao and Toshihiro Kawamoto will be designing the characters.
In the story, there live eight million deities and dead spirits who serve them, helping and meddling in the affairs of humans. Yato is a minor deity whose dream is to gain a lot of followers worshipping and praying him. But just out of luck; his dream is far from coming true as he doesn't even have a shrine dedicated to him. And to make things worse, his only assistant who helped him solve people's problems had to quit his job.
Hiyori Iki is a sweet middle school girl who is often bullied by her classmates. On one all-enduring moment, she runs to the restroom and cries all by herself. However, she is surprised to see a scribble on the bathroom wall with a phone number, along with the message "I will solve all your troubles."
Yato's godly existence may just have the chance to change when he chose to save Iki, sticking with her until her problem gets solved. Together with a new partner weapon called Yukine, Yato will do all that he can in his power to gain what he wants—a shrine dedicated to him.
Noragami will debut in Japan on January 2014.