Non Non Biyori TV Animation Visuals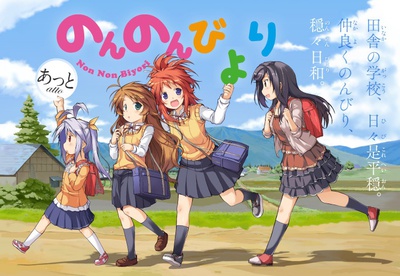 The Non Non Biyori official site has posted key visual arts in spring and autumn atmosphere, as a preparation for the launch of the television anime on October. Non Non Biyori TV Anime is an adaptation of Atto's slice of life comedy manga about a group of school girls and their rural life. Alongside the visuals release comes the announcement of the OP and ED songs for the series.
The OP song will be performed by the band nano.Ripe and is titled "Nanairo Biyori." The ED song on the other hand, is titled "Non Non Biyori" and will be sung by the four main voice actors. This includes Rie Murakawa as Hotarou Ichijou, Kotori Koiwai as Renge Miyauchi, Ayane Sakura as Natsumi Koshigaya, and Kana Asumi as Komari Koshigaya.
Both of these songs will be released in Japan after the debut of the animation; the OP song will be released on the 30th of October and the ED will be released on the 6th of November.
Non Non Biyori tells about the story of the elementary school student named Ichijou Hotaru. She just moved in with her parents from the metropolis of Tokyo into the quiet country. With a different, more peaceful atmosphere, Hotaru has to adapt to her new surroundings. The nearest bookstore is 10 minutes away by a bike, and the video rental store is 10 stations away—a lot different from the compact buildings in the Tokyo complex. She enters a new school as she takes in the slow life, and there she meets some new friends.
Non Non Biyori scripts are written by Reiko Yoshida, Fumihiko Shimo and Yuka Yamada. Kusanagi is managing the background art and SILVER LINK is supervising the series production. Mai Otsuka will be the main character designer and will also be the chief animation director.
Get a glimpse of Hotaru's new, country side life with these key visuals released by the official website: