New Visual Novel Little Busters! Animation Produces Website and PV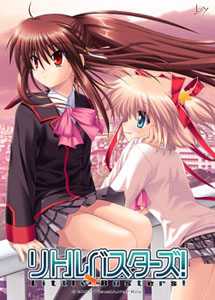 An anime adaptation for the Japanese visual novel Little Busters! has been green lit. Announced in March of the current year, the production company made it official by launching the official website for the series as well as the release of the promotional video, igniting the interest of game players and anime lovers alike.
The new promotional video offers an interesting first look at the character designs, which features the female cast with clear, glass eyes and the boys with a strong, fierce appeal. A trailer has also been showcased in the website, http://key.visualarts.gr.jp/lb_anime/. Local press Dengeki Visual Arts magazine has revealed that the series will be produced by the J.C. Staff studio and is directed by Yoshiki Yamakawa. Alongside this, the website has also listed the cast who will play the roles of the anime characters, which is consequently, the same voice actors in the game:
Tome Tamiyasu as Rin Natsume
Hikaru Midorikawa as Kyousuke Natsume
Nobotoshi Canna as Masato Inohara
Yusei Oda as Kengo Miyazawa
Natsume Yanase as Komari Kamikita
Keiko Suzuki as Haruka Saigusa
Naomi Wakabayashi as Kudrjakwa Nomi
Ryoko Tanaka as Yuko Kurugaya
Shiho Kawaragi as Mio Nishizono
Little Busters! has been originally developed by Key productions as a visual novel in 2007. It can be played through Window PCs and is allowed to be played by all ages. The game play follows a separate plot line which allows one to encounter pre-determined circumstances depending on their courses of interaction. Six female characters are offered to be player character in the story. Mini-games are also added in the plot, which requires one to have fun with short little sequences such as fighting games, baseball practice, and other similar plots which adds up to the character's experience.
Little Busters! have been adapted into manga, where two of them are serialized in ASCII Media Work's Dengeki G magazine. Music albums, as well as art books and light novels has also featured the title. Key Productions is the same studio who released other famous titles such as Kanon, Air and Clannad.