New Series Yuruyuri♪♪ About to Hit the Local Television this July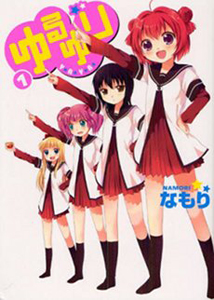 TV Tokyo has recently broadcasted a 30-second promotional ad for an upcoming anime called Yuruyuri♪♪. This is inspired from a Japanese manga series created by the mangaka Namori. It was initially serialized in the Comic Yuri Hime S in July 2008. Yuruyuri♪♪ then was moved to Comic Yuri Hime in 2010, still catering to its fans that grew to love its series and followed its story.
The plot of Yuruyuri♪♪ follows the lives of four schoolgirls in a junior high school located in Takaoka, Toyama. A year before the present story starts, two girls named kyoko Toshino and Yui Finami takes over the room of the school's original Tea Ceremony Club and turns it into the Amusement Club. Their friend, Akari Akaza, enters the school and joins the club with them. Another student, Chinatsu Yoshikawa, ends up in the same club.
The name ゆるゆり has been derived from a literal phrase translated as Easygoing Yuri. The girl's journey starts as they mistakenly enter the amusement club for the Tea Ceremony club, which has ended a long time ago. Its first series, created by the Dogakobo aired in Japan between July and September 2010, running with 12-episode anime season.
Get ready for another dose of a funny journey by these four club members in their quest to making their group one of the most successful in their school. YuruYuri features an easygoing, light plot that takes away the complications of a fictitious animation.
The funny teaser features a humorous scene where the main cast spends time trying to figure out how to pronounce the music notes located at the end of the title. Take a peek at the interesting new season of this droll anime, and anticipate a lot of laughs, fun and friendship as covered in the series. The animation of the Yuruyuri♪♪ second series will start in July 2.