New One Piece Special To Air in December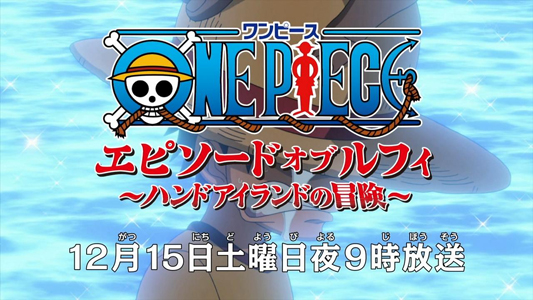 Fuji TV had just revealed last week that the productions for the anime One Piece, will be releasing a new special episode dubbed as One Piece Episode of Luffy: Hand Island no Boken (One Piece Episode Luffy: The Hand Island Adventure). The special episode will air on Saturday, December 15 at 9:00 PM. Normally, the One Piece television series air on Sunday mornings.
The Hand no Island Boken special episode is separated from the four successive television episodes that will begin airing on December 2. This feature episode is a tie-in story to the new One Piece Film Z, which will also open on December 15. Just like in the film, the original manga creator Eiichiro Oda will supervice the Hand Island no Boken special with its new plot. Hiroyuki Morita and Misturu Hongo will be co-directing the special, and the singer / designer Shizuka Kudou will collaborate with Oda for the costume designs.
The plot of this new feature episode will be set on a period before the events of the One Piece Film Z, and evokes a great incident which happened in Hand Island. This occurs to provide a clear New World Story line. The story, set in a place called Cannon Town, involves around the One Piece crew and a commodore of a marine base. Cannon Town is a place where parents and children work as crafts people.
The special will also have a flashback scene to the story in the first chapter of the manga, but with a spanking new animation. The spoilers involve two of the well-known original casts, coming back to meet our hero pirates once more.
The most recent One Piece episode of Nami, Kokaishi no Namida to Nakama no Kizuna, is another special that aired on a Saturday this August. Take a peek of what this new feature episode has in store for you by watching this video: