New Mystery Anime Series Hyouka Bound on TV this Spring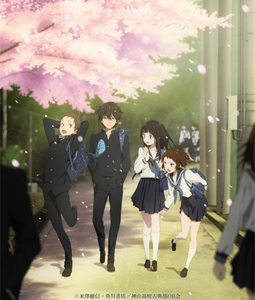 Yasuhiro Takemoto, whose name can be associated with directing many epsisodes of the anime Lucky Star, is about to release another animation series this coming spring.
Dubbed as Hyouka, this new story is focused on shonen demographic by attracting them with a mystery plot. Futoshi Nishiya, the genius behind the character designs of Nichijou and The Melancholy of Haruji Suzumiya, collaborates with the rest of the Hyouka team and endows them her unique styling art. The story is adapted from the enigmatic novel created by Honobu Yonezawa.
The public's view about the Hyouka's animating studio KyoAni boosted the anticipation for this series. KyoAni is the same studio which produced the animes K-On! and the Melancholy of Haruhi Suzumiya. The details given to each characters has given a whole new approach to animation, well accepted by veteran artists and series lovers alike. However, slighting away from the usual scene of cute girls and fondly scenes, Hyouka aims to produce a bittersweet tinge to the whole series, where emotion is first and foremost the priority. The scenes promise to be fun, bubbly and lovable, but also thrilling and heart pounding as well.
Staged in a Kamiyama high school campus, Houtaru Oreki, the protagonist, is a lazy, unmotivated character. His main motto in life is not to be involved with anything unnecessary, or those which could benefit him nothing. Oreki tries not to be involved with the rest of his class, but due to the prim order of his sister, he joins a club—the Japanese Classic Literature Club, forcedly. He meets Eru Chitanda, the vibrant club president, and there he was joined with two of his childhood friends: Satoshi Fukube and Mayaka Ibara.
The four of them soon develops into a deep friendship and becomes a crime-solving team, looking around at the many incidents in the school which happened inexplicably. This also leads them to a three decade old mystery, which includes one of the member's relatives, and the hints left by the past members of the club. The series commissioned itself to thrill, mystery and suspense, and the characters can be associated with the Sherlock Holmes norm.
Hyouka will be first aired on April 22.