K-On Team Produces New Mocchi Inspired Anime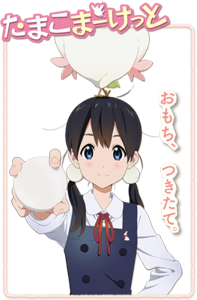 Loved K-ON? You'd surely get its glimpse and feel in this new food-inspired animation that is being prepped up to hit the television screens in 2013. Japanese anime channel Animax had just posted a preview for the newest project Kyoto Animation studio is working on: Tamako Market. This light novel series is being led by no other than Naoko Yamada, director of the K-ON anime series, as well as Reiko Yoshida, who is in charge of the scripts. Yukiko Horiguchi will be in charge of the character designs.
Pony Canyon, a popular Japanese record label, has just revealed this week that voice actress Aya Suzaki will play the lead role in this television anime. She will also perform this new project's opening and ending theme songs, which will be on sale in separate maxi singles come January.
Tamako Market focuses on Tamako, a high school freshman who is so fond of the Japanese sweets, mochi. Their family actually runs a rice cake shop in the town's shopping district, to which Tamako greatly assists when she can. Her high school life is made fun and vibrant with her friends Kanna and Midori and their badminton club. While she is enjoying school and helping out in their family business, she tries to develop new mochi styles and flavors.
Tamako is also the childhood friend of Mochikura, the son of their neighbor yet rival mochi shop. They go along well, but when their fathers meet, they fight like cats and dogs. On Tamako's birthday on New Year's Eve, Mochikura wanted to give her a present that he has not been able to give in the past years. at this point, a magnificent parrot appears in the shopping district, and a year like no any other is signaled to begin.
Tamako Market will hit the local Japanese small screens in January 2013.