New Levi Figure Ready For Pre-Orders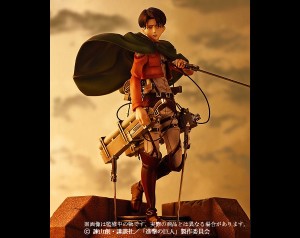 If you've been collecting Shingeki no Kyojin (進撃の巨人) figures for the longest time already, you already know by now that Levi's (リヴァイ) figures sell like hotcakes. If you missed out on a Levi figure for your Shingeki no Kyojin collection, Japanese toy company Pulchra!
Pulchra's take on everyone's favorite Heicho (兵長) stands at a 1/7 scale or 27 cm. Priced at a whopping 12,000 JPY (117.28 USD), Levi is made from ABS and PVC and is highly detailed – just take a good look at his 3DMG! His green Survey Corps (調査兵団 ) cloak permanently flying behind him bears the Survey Corps logo that is shaped to according to how the cloak was sculpted. The 12,000 JPY price already comes with tax. Pre-orders have started since January 31, 2013 so be sure not to miss out on this one!
One of the most renowned faces in Shingeki no Kyojin, Levi is widely known for his ferocity and skill in battles against Titans (巨人). Calm and calculating, Levi leads the Special Operations Squad (特別作戦班) and has gained the trust and respect of his team with his quick wit. The biggest war he would gladly fight in (regardless of the situation and cost) however is dust and grime as seen in Episode 15 of the anime.
Check out more photos over at the official Pulchra website and don't forget to place your order before its too late!