New Anime Adaptation of Yozakura Quartet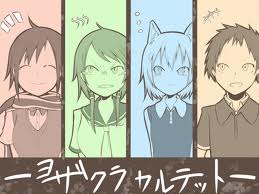 Yozakura Quartet lovers, heads up! By the use of the popular Japanese video sharing site Niconico, the Yozakura Quartet manga creator Suzuhito Yasuda and the cast of this upcoming project has revealed through a live program that a new anime adaptation is coming to the small screen. It must be known that the plot has already been animated in Japan, air on 2008 and is comprised of 12 episodes. Yozakura Quartet is Yasuda's first manga.
The plot trails after four teenagers. Akine, Hime, Ao and Otona runs an office called Hiizumi Life Counseling Office, and it is their job to protect the residents of Sakurashin district. In this town, humans and demons co-exist; it is only protected by a barrier created by a spiritual Sakura tree called the Seven Pillars. The trees exist in both the human and the yokai world, keeping the two universes connected to each other.
However, recent incidents have happened in Sakurashin and something has threatened its safety. It's a good thing that these four teenagers are well skilled and equipped in handling their enemies down. Hime is a girl with supernatural powers, and was originally branched from a yokai clan. Ao can read people's minds through her cat ears. Kotoha is a half human, half yokai which can conjure up anything with the right set of words. Akina is the only boy in the group, and the only normal one. However, his abilities of tuning give him the power to disconnect yokais from the human world.
The new Yozakura Quartet is not a sequel to the first television anime, the project states. This new version is a retelling of the story from the beginning of the plot; it will have all the original content combined with the manga. Ryo-timo will be directing this TV adaptation, and the cast and schedules will be revealed soon. Stay tuned right here on Asgard for more info about Yozakura Quartet!