Nana Manga Postcards Brings Hopeful Return Of The Series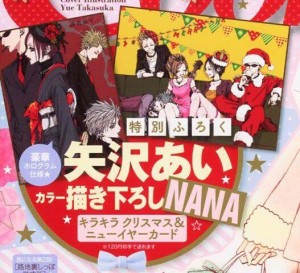 Celebrated mangaka, Ai Yazawa (矢沢あい), was on hiatus due to her medical condition but will she be back to give us Nana (ナナ) once again? Maybe, maybe not but fans are still crossing their fingers for Yazawa to continue her beloved shoujo manga (少女漫画) and this bit of news will surely fuel the hope for the Nana's comeback! In the January 2014 issue of shoujo magazine, Cookie, brand new Nana manga postcards will be added. Will this be the sign that every Nana fan is hoping for?
If you're unfamiliar with Nana, it's a story of how two girls met who both go by the name of Nana. Nana Osaki (大崎 ナナ) is the polar opposite of Nana Komatsu (小松 奈々) but that doesn't stop them from getting along. Nana O. is a punk singer whose earlier life molded her into the person she is today while Nana K. is a happy-go-lucky girl who is notoriously known for falling in love easily. The two Nanas first met on a train ride heading for Tokyo, in which the girls have their respective objectives. After more coincidental instances, they decide to become roommates and eventually become very good friends.
The January 2014 issue of Cookie will be released on November 26 so grab your copies and add the Nana manga postcards to your Nana collection!