Multiple Choice Existence Story Anime Adaptation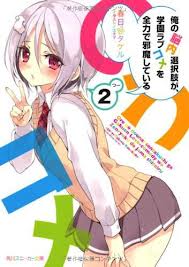 What if you have the power to choose your future… in multiple choices? That would be awesome isn't it! Well, Kanade Amakusa takes this advantage, however, as a curse. In the May issue of publisher Kadokawa Shoten's Monthly Shounen Ace has just announced that an anime adaptation for Takeru Kasukabe's Ore no Nōnai Sentakushi ga, Gakuen Love Come o Zenryoku de Jama Shiteiru (俺の脳内選択肢が、学園ラブコメを全力で邪魔している, My Mental Multiple-Choice Power Is Completely Ruining My School Romantic Comedy) is finally slated for fans who wants to see this story in action. The project is currently in the works.
Ore no Nōnai Sentakushi ga, Gakuen Love Come o Zenryoku de Jama Shiteiru centers on the life of Kanade Amakusa, whose strange talent would be envied by millions, but he thought of it as a curse. He has the mental skill of "absolute multiple choice," a rather funny moment where a multiple choice quiz suddenly appears in his mind, and the choice he makes becomes his new reality. But these multiple choices don't really give him good benefits; the limited number of options sadly makes this boy choose the less bad item, which is always bad!
An instance would be going to school naked either waist up, or waist down. He then is given another choice after that reality occurs, like a beautiful girl will fall before him, or he will fall from the roof in female clothing. At this point, he chooses the first option, to which a blonde girl, Chocolat, falls before him, and the romantic comedy starts.
The series was launched by Kasukabe in 2012, with the illustrations of Yukiwo. Sneaker Bunko has published the third volume of the story last October. The story is being adapted into a manga by Ituki Sayaka on the Famitsu Comic Clear Website.