Light Novel Series Mondai-Ji-tachi ga Isekai Kara Kuru Sō Desu yo Bundles Original Anime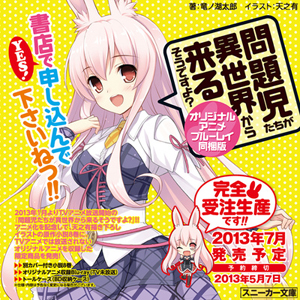 Taro Tatsunoko's light novel series, Mondai-Ji-tachi ga Isekai Kara Kuru Sō Desu yo (問題児たちが異世界から来るそうですよ? / Don't Problem Children Come from Another World?) now gears up for an animation project as the production for this title has announced an OAV to be bundled along with the release of its eight volume. The Blu-ray Disc video will be shipped along with the series next July.
It must be known that Mondai-Ji-tachi ga Isekai Kara Kuru Sō Desu yo is also prepped up to become one of the many January 2013 anime offerings in Japan, with a television anime slated for the new year. However, it has been revealed that the plot from the original anime video included in the volume bundle is separate for the 2013 January fantasy comedy series.
Mondai-Ji-tachi ga Isekai Kara Kuru Sō Desu yo is a story about Isayoi Sakamaki (voiced by Shintaro Asanuma). He is a boy bored with the entire world and wishes to find something more exciting somewhere else. One day, a strange envelope arrives for him, and the moment he opens it, he gets transported to another world. There, he meets other people—two problem children, specifically, who were transferred into the world just the same as he was.
Yo Kasukabe, voiced by Megumi Nakajima, is an introvert with a pet cat. Asuka Kudo, voiced by Emi Sarah Bridcut, is a proud little miss. A girl called the Black Rabbit summoned Sakamaki and the two girls to overthrow an evil ruler.
This special novel bundle that comes along with the Blue-ray disc will also showcase a one-of-a-kind variat cover and a tall case especially for the video. It will be shipped to a limited number of copies, as pre-ordered by retailers by March 7, 2013. For those who wants to snag something extra with this comedy, light novel series, make sure you have pre-ordered your before the due date to enjoy the unique bonuses.