Mobile Social Game Dasshutsu Gasshapon Prepped for Anime Adaptation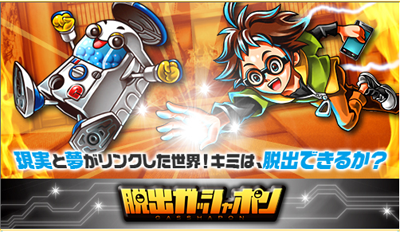 In Japan, various titles created from a one form of media can be consequently transformed into another, just like this upcoming anime series we're about to reveal to you. Bandai's popular mobile social game Dasshutsu Gasshapon will be turned into an animation series, as revealed by its official website. Now, this adventure-filled, guardian-seeking, evil-fighting journey can now be enjoyed without beating your fingers upon your mobile pads!
Bandai also revealed the staff for this project, which inclides Yuusuke Yatasaki who will handle the character designs and storyboarding, Studio Tomato Kyofu in Kyotoma will be manmaging the direction, planning, and scriptwriting along with Uematsu Inoue. Wolli Music will take on scoring the soundtrack, with the artists Yuzo Yamamoto, Fujitsuka and Yasuko Kawakami will handle the animation.
The story focuses on the life of Shota, an ordinary high school boy whose life is about to change so suddenly, as a creature called the Gasshapon appears before his face. These strange creatures can be distinguished as Bandai's prize dispensing machines! The Gasshapon claims to have come from the future era. He was sent to the past by the future Shota, coming from an era in which an alien force called the Cold Cosmo (CC) has made it their mission to change all the stars and planets with warmth and light into cold, dark and sullen places like their own.
In order to save the future, the Gasshapon intends to take the present Shota into 2080, but time travel, being not fully perfected, Shota is thrown into a completely different period. He enters the era of the Honno-ji Incident in 1582, where Shota becomes the warlord Oda Nobunaga.
The release date has not been set yet, but the official website has revealed the cast for the animation project. This includes Yuko Mita as Shota Hoshikawa, and Daisuke Sakaguchi as Shota's alter-ego, Nobunaga.