Minami-Ke Figures Come Free In Limited Edition Copy Of The Manga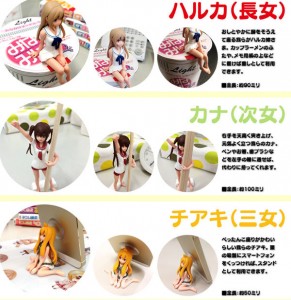 Hard to believe but Koharu Sakuraba's (桜場 コハル) comedic slice-of-life manga Minami-Ke (みなみけ) is turning 10 this year! To celebrate this monumental event, Kodansha (株式会社講談社) will be releasing the limited edition of volume 12 with three semi-functional mini figures of the three Minami sisters! Oldest sister Haruka (南 春香) can sit on your cup of instant ramen to keep the lid closed while you wait for it to be cooked while middle sister Kana (南 夏奈) can hold your chopsticks together. Youngest sister Chiaki (南 千秋) can help you prop up your smartphone or iPad Mini!
Minami-Ke was first published in Kodansha's Young Magazine (週刊ヤングマガジン) on November 5, 2004 and is still an ongoing manga series. First born Haruka Minami is the most reliable sister one could ever ask for but all these fly out the window when she's alone. The youngest of the Minami brood is Chiaki is the family's brains. Chiaki hero worships Haruka but has little to no patience with middle sister Kana who may possible be her polar opposite. Kana is spirited but impulsive and will often misinterpret some things.
With Minami-Ke being a huge hit, these figures won't be the only event that celebrates the manga's 10th anniversary. Head on down to Kodansha's Minami-Ke official page for more anniversary details! The special edition of Minami-Ke's 12th volume complete with the mini-figures will be released on August 6, 2014 for only 3,200 JPY (31.61 USD).