Medicom Presents Shingeki No Kyojin's Mikasa Ackerman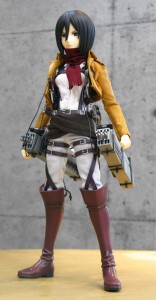 You don't stand a chance to win unless you fight.
Mikasa Ackerman
A lot of beautifully-made Shingeki no Kyojin (進撃の巨人) figures have come out and Medicom has already given us a preview of Mikasa Ackerman (ミカサ・アッカーマン) under the Real Action Hero line of figures. Standing at a 1/6 scale, the RAH Mikasa comes in complete gear from her signature red scarf to her fully detailed 3DMG. What makes this figure even more awesome is that Medicom has captured and forever immortalized Mikasa's cool and calm exterior.
What made Mikasa into the fearless fighter that she is today? Mikasa's lineage leans to oriental, a very rare race inside the Walls (ウォール). When her mother was killed in a kidnapping mishap and her father murdered, Mikasa was taken and was deemed to be sold until Eren Jaeger (エレン・イェーガー) snuck into the house she was taken in and violently killed one of her captives. When Eren was about to be beaten dead by the only remaining kidnapper, Mikasa snapped. She rescued Eren and killed the last kidnapper. Soon after Titans ravaged the Walls, Mikasa followed Eren into becoming a soldier and is notably the best trainee in the 104th Trainee Squad. Like Eren, Mikasa Ackerman has become a member of the Scouting Legion (調査兵団).
The Mikasa Ackerman RAH figure will be released on July of 2014 and is priced at a whopping 23,600 JPY (241.15 USD). Will you add this beauty to your figure collection?