Mayu Shinjo's Ai Ore Love Me! features South Korean Idols DGNA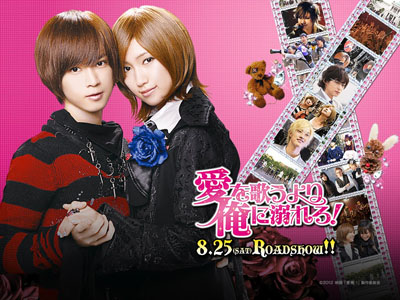 A live action film adaptation is scheduled for Mayu Shinjo's shoujo romance manga, Ai Ore Love Me (Ai wo Utau yori Ore ni Oborero). The story, staged in a high school setting, involves a unique love story between a feminine man and a manly girl, and their love for music. The unique charm within the visual kei world as well as the age backdrop makes it a pleasant film for teenagers and manga enthusiasts alike.
What makes this movie more special is the inclusion of South Korean Idols DGNA, predominantly Karam, who holds the role of Akira Shiraishi. Shiraishi is considered as the male "hime" (princess) of an all-boys school, and captivates his classmates with his demure charm and ladylike appeal. On the other hand, Mizuki Sakuraza, played by Ito Ono, is being looked up as the female prince of an all-girls school, adjacent to Shiraishi's. Sakuraza belongs in an all girl rock band called Blaue Rosen, where she is the fierce lead guitarist.
Shiraishi wanted to join the band after hearing that the Blaue Rosen's singer, also its leader, goes abroad. However, being an all-girl band, Sakuraza is suspicious of Shiraishi and tends to watch him with prying eyes.
Mayu Shinjo found success with this shoujou romance along with other titles such as Anata no Iro ni Somaritai. She works for Shogakukan until 2007, with her manga appearing in its shojou comic slotes and the magazine Cheese!
The idol band DGNA performs the film's theme song, Ikenai 1-2-3. This is their first song for a Japanese movie, and this will go on sale during summer. The movie is set to be screened starting on August 25.
The official website for the film adaptation has streamed a 100-second trailer. Take a peek inside Sakuraza and Shiraishi's gender bending world in Ai Ore Love Me! by watching this clip: