Mangaka Tamashii! ~Hero's Legend~ Hosted by A*Spirits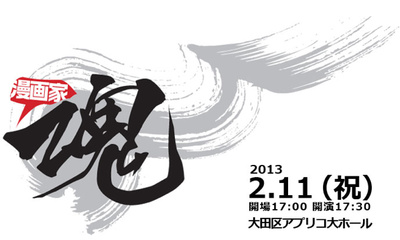 The charity group called A*Spirits will be hosting the upcoming project called Mangaka Tamashii! ~Hero's Legend~ Episode 01, Manga Creator Spirit: Hero's Legend Episode 01 on Tokyo this February. In this event, manga creators, actors, illustrators and other artists will contribute in order to support the victims of the March 2011 earthquake and tsunami tragedy in Japan.
The circle still looks back at this disastrous incident with hopes to revive the old lives of those who were greatly affected by the earthquake. Through this event, the project collaborators will be able to contribute according to their own skills in talents for the benefit of these communities.
Manga creators Ken Akamatsu of Negima and Love Hina, Minoru Nonaka of Armored Trooper Votoms, Masaomi Kanzaki of Xenon and Hagane and Kia Asamiya of Nadeshiko and Silent Mobius are leading the project. Alongside them are Yoshitaka Amano, Character Designer of Vampire Hunter D and Final Fantasy Video Games, popular voice actor Tomokazu Seki of Nodame Cantabile and Fate/Zero and several live-action special effects actors, artists and performers.
During this event, a new robot work will be unveiled by the participating manga artists. The Mangaka Tamashii!! will also include various auctions of personal items from the artists as well as illustrations. Alongside this, handshake and signing events will also be held.
Attendees will be lucky to receive limited number of original goods which they will only acquire here. Mangaka Tamashii! will be held inside the Aprico venue, located at the Ota Residents Hall in Tokyo's Ota Ward. Doors will open at 5:00 pm and the event will begin thirty minutes later. The group A*Spirits will be selling tickets online, available for 5,000 Yen (US$56) until the 25th of January. The money raised from this event will be donated to support the children in the areas greatly affected by the March 2011 earthquake.