Man With a Mission Performs Log Horizon Theme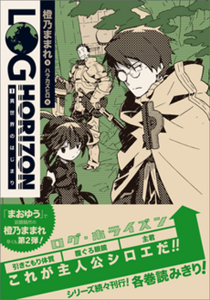 NHK's E-Tele-channel has aired the opening sequence to the up and coming anime Log Horizon, featuring the song from the band Man With a Mission. Titled "Database," the song features TAKUMA of 10-FEET. Log Horizon (ログ・ホライズン) is a Japanese novel created by Mamare Touno. The series has been initially posted on the user-generated content site called Shōsetsuka ni Narō back in 2010 and was soon published by Enterbrain on 2011.
The story follows the adventures of the Enchanter Shiroe and the other players of the long-lived MMORPG Elder Tales after they have discovered a portal to enter a fantasy world identical to the game. 30,000 Japanese gamers are trapped in the fantasy online game world, and what they used to know as a digital "sword and sorcery world" has become a real world for them. Shiroe is joined by Naotsugu and Akasuki to survive the perils brought about by this new world.
Anime studio Satelight is creating the prearranged 25-episode series, ready to air on the public broadcaster NHK's E-Tele channel. Shinji Ishigara will be directing the anime, Toshizo Nemoto will be in charge of the scripts.
The series will be starred by Takuma Terashima as Shiroe, Emiri Kato as Akatsuki and Tomoaki Maeno as Naotsugu. Alongside them are Jouji Nakata as Nyanta, Daiki Yamashita as Touya, Nao Tamura as Minori, Tetsuya Kakihara as Lundellhaus and Eriko Matsui as Isuzu.
The novel has already received 4 manga adaptations—one of them based on the main story and the other three spinning around the other characters in the series. Motoya Matsu launched Log Horizpn Gaiden Honey Moon Logs in ASCII Media Works' Monthly comic Deneaki Daioh in 2012. Kazujiro Hara has serialized the main manga adaptation on Enterbrain's Comic Clear website in 2012 and Koyuki has drawn another manga called Log Horizon ~Nishikaze no Ryodan~ in Fujimi Shobo's Age Premium website.
The anime will debut on October 5, 2013 in NHK Educational TV.