Majestic Prince Production Reveals Air Date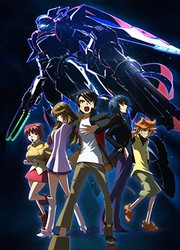 The official website for the Majestic Prince anime series project has just revealed that the show will premiere on April 4, Thursday, at a 10:30 p.m. timeslot on Tokyo MX. Created by Rando Ayamine and Hikaru Niijima, Majestic Prince is a mecha-inspired series set on space. In the latter half of the 21st century, humans have the capability to leave the earth and begin to live in the outer space. However, this new venture imposes them to adapt to this foreign environment and deal with hostile aliens from the other planets.
A group of genetically engineered children, artificially raised to pilot mechas, are called "Princes." These advanced robots are called AHSMB (Advanced High Standard Multipurpose Battle Device). Majestic Prince trails after the story of one of the Princes, Hitachi Izuru, who currently takes his education in the academic city Grandzehle to fulfill his mission of protecting humanity.
The anime series will focus on the lives of Toshikazu Asagi, Irie Tamaki, kei Kugimiya and Ataru Suruga. Toshikazu Asagi is a young man who is known for his smarts and skills; the second lieutenant of Team Rabbits. He has a competitive spirit and always vies on being on top.
Irie Tamaki is another member of Team Rabbits. She is gullible ad falls in love very easily. Kei Kugimiya assumes the control position for the team. She is cold on the outside, but she loves sweet things. Ataru Suruga on the other hand, is the gunner for the team. This talkative lad can be oblivious to his surroundings and is frequently lonely.
This Ayamine and Niijima work has began serializing in Monthly Hero's inaugural issue in 2012. Shogakukan Creative has published the second volume of the manga in December. Majestic Prince series will be handled by director Keitaro Motonaga, character designer Hisashi Hirai, and script writer Reiko Yoshida at the anime studios Dogakobo and Orange.