Majestic Prince Animation Adaptation in the Works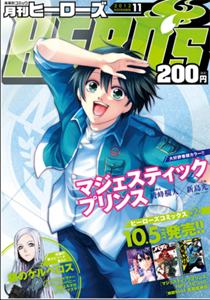 A roster of exciting anime adaptation projects is coming your way. ANN has recently confirmed that an anime for Rando Ayamine and Hikaru Niijiima's manga, Majestic Prince, is currently in the works. This has been discovered through the register counter of the 7-Eleven convenience stores found in the Tokyo district. Here, a Monthly Hero's magazine is shown, where an ad reveals of the said project. Both manga artists have created a favorably known anime called the Getbackers.
As the Getbackers series ended, Ayamine and Niijiima turns to finish this new story, where Niijiima handled the illustrations. The story trails after the situation of humanity as it expands its territories into space, looking for credible resources for survival. There is progress in genetic engineering research, due to the various explorations of scientists in the human body. The new discover proved to be a milestone, which allows humans to adapt into the new atmosphere. This leads to the advent of "evolved" children, which includes the protagonist, Izuru.
Izuru is a young boy who enrolls in the academy city called the Gurantseere. In class, he acts normally like the others; however, little do others know the purpose of him coming here. He does this in order to fulfill his one important mission—protecting humanity.
The cover, which the ad for the anime adaptation project was announced, was of Monthly Hero's magazine. The November issue was featured on the magazine's official website, however, the image only left a vague announcement which says that the anime will begin its production. This issue of Monthly Hero will be on sale on October 1.
The manga was launched in the magazine's first issue in October 2011, and the Shogakukan Creatives will be publishing the first volume of the Majestic Prince manga next month. More new manga turned into anime titles are coming your way, right here on Asgard. Stay tuned!