Mahōka Kōkō no Rettōsei Anime In The Works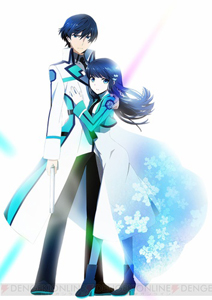 It has been revealed that an anime adaptation for Tsutomu Satou's Mahōka Kōkō no Rettōsei (魔法科高校の劣等生, "The Irregular at Magic High School") light novel is in the works. This information was revealed during the Dengeki Bunko Fall Festival this October. Alongside the surprise came along the staff for the project, including the director Manabu Ono who will be leading the creation at the Mad House Studio. Well-prepared, a PV was also screened during the event!
In the story, humans live in a world wherein magic is not your usual fairy tale—but a truth. It has existed for nearly a hundred years and everyone is aware of its existence. In fact, they use it for their daily lives and to dwell harmoniously with one another. In the spring season, a school called the Private Magic University Affiliated High School (We should call it Magic High for short—such a long name!) has flung its doors wide open for new students. Those who are within the top student standards with the best grades at their arrival will be categorized as the Bloom, while the ones who weren't able to manage to fit into the standards will be called the Weed.
Twin siblings Tatsuya and Miyuki Shiba looks so much alike, except for their magic skills. They are designated as weed and bloom, respectively. Miyuki gained her good title because of her intelligence and high grades, and Tatsuya is the entire opposite of her. Tatsuya is a man who always looked farsightedly, and Miyuki is keeping some feelings for her brother other than sibling love.
As the two enters the school, the place have become surprisingly chaotic. Tatsuya Shiba will be voiced by Yuichi Nakamura and Miyuki Shiba will be voiced by Saori Hayami.
Satou has began writing the series along with the designs and illustrations by Kana Ishida. The light novel was released in 2008 under the Dengeki Bunko Label.