MADHOUSE Releases Teaser for Kamisama no Inai Nichiyōbi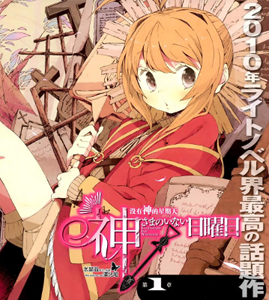 At the Anime Contents Expo Event this Saturday, the production company MADHOUSE has released a promotional video for their upcoming fantasy anime project, Kamisama no Inai Nichiyōbi. The teaser also debuted on the official website on Sunday. Kami-sama no Inai Nichiyōbi (神さまのいない日曜日/ The Sunday Without God) is a light novel series by Kimihito Irie, with illustrations done by the artist Shino. The story was adapted into a manga by Abaraheiki and was serialized in the Fujimi Shobo's Monthly Dragon Age.
The production group has also revealed more of the cast and staff members beyond what was revealed before. The additional cast includes Aki Toyosaki as Ai, Daisuke Namikawa as Hanpunii Hanbaato, Yuki Goto as Hana, Mamiko Noto as Scar, Keijii Fujiwara as Yurii Sakuma Domiitoriebicchi, Tetsuya Kakihara as Kiriko Zuburesuka, Mikako Komatso as Urra Eureusu Hekumatika and Eri Kitamura as Dii Enjii Sutarotamittosu.
Kitamura will be performing the opening theme song, while Komatsu will be contributing the ending song. Yuuji Kumazawa is directing the project, with the scripts supervised by Tomoko Konparu. Shinichi Miyamae designed the characters, Studio Easter will produce the backgrounds, Satoshi Motoyama will serve as the sound director and Hiromi Mizutani will score the music.
Kamisama no Inai Nichiyōbi is set 15 years after humans stopped dying and being born, as the world was abandoned by god. This instance leaves the Gravekeepers with the task of giving the world its peace. Ai is the only gravekeeper in her village; she is born from a human father and a Gravekeeper mother 12 years ago. A boy named Hanpunii Hanbaado appears in their village one day, destroying everything and everyone, and with his arrival comes a surprising truth.
The anime will air this summer. For the meantime, you can settle yourselves and see the first glimpse of it by watching the teaser below: