Lupin The Third vs Detective Conan: The Movie Immortalized In A Watch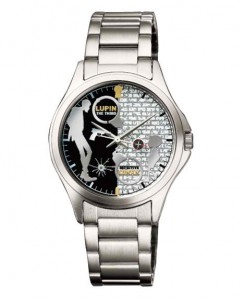 Of all the anime cross overs the world has ever imagined, this one is of epic proportions. Known for his comedic antics, Lupin the Third (ルパン三世) is the grandson of the legendary Gentleman Thief, Arsene Lupin. Lupin the Third, just like his grandfather, is a master thief – his talent in stealing is just as magnificent as his escape from the claws of the police, much to Inspector Koichi Zenigata's (銭形 幸一 ) dismay. If Inspector Zenigata's attempts of capturing Lupin and throwing him behind bars once and for all fails on nearly all occasions, what happens if the ICPO hire Shinichi Kudo (工藤 新一)? Also known as Detective Conan (名探偵コナ), Shinichi Kudo has solved even the hardest case the police has to crack. Throw these two together and you get Lupin the Third vs Detective Conan: The Movie (ルパン三世VS名探偵コナン).
Imperial Enterprises Inc., a company based in Tokyo, Japan, has unveiled their latest item that celebrates this awesome anime movie cross over with a collaboration watch. Priced at 29,300 JPY (284.71 USD), the watch is designed with the silhouettes of both Lupin and Conan in monochrome. A gunshot can be seen near Lupin's feet while handcuffs encircle the characters respective names. To make the package even more cooler, the package is completed with message cards both from the creators of Lupin the Third and Case Closed, Monkey Punch (モンキー・パンチ) and Gosho Aoyama (青山 剛昌)! This watch is only produced at a limited to a number of 5,000 so be sure you're a part of the lucky 5,000 people who will get this.
Will Shinichi Kudo, also known as Conan Edogawa (江戸川 コナン), capture the world's greatest master thief? Grab your tickets for the Lupin the Third vs Detective Conan: The Movie which will be in Japanese theaters starting on December 7, 2013! Read up more on the Lupin vs Conan watch in the official Imperial Enterprises website. If you haven't watched the trailer yet, check it out below.
http://youtu.be/6yxD4a1WhMU