Live Action Adaptation for Soko wo Nantoka Shoujo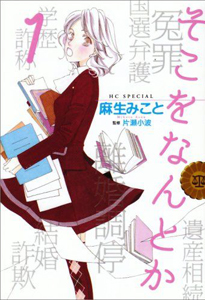 Mangaka Mikoto Asou has announced on Saturday that her work Soko wo Nantoka Shoujo is being prepped up for a live action television adaptation. The manga, which was originally part of the Hakusensha's Melody magazine in 2007, has already published its sixth compiled book volume in March this year. The new series will be broadcasted as part of the programs showcased by the NHK's satellite, as well as the cable channel BS Premium.
Actress Yuika Motokariya (Wild 7, Bokura Ga Ita) will be leading the cast as she plays the role of Rakuko "Rakko" Kaise, a spunky, vibrant girl who dreams to become a lawyer, even though once worked in the cabaret. She will be joined by Ennosuke Ichikawa IV, Megumi, Oshirou Maeda, Shunji Igarashi, Waka noue, Kouhei Takeda, and Kouhei Otomo. Motokariya has played various small roles in many his series, including Yamato Nadeshiko Live Action and more. This is among the series which she takes the main role.
In the story, Rakuko Kaise grew up in an impoverished family where everything in life was hard to get. In order to surpass this live without too much struggle, she dreamed to become a professional and dignified lawyer in order to make money. However, she supported herself in law school by working in a cabaret—quite an ironic choice for her soon-to-be profession. When she passed her bar exams, Kaise lands her first job in a small law firm. In her work, she soon experiences how it is to become a real lawyer and develops into a fully fledged expert. However, in turn, she committed herself on working on cases which don't really make much money. In this case, she found joy in helping other people and discovered that money is not everything in life.
The Soko wo Nantoka Shoujo series is to hit the local television on October.