Little Busters! 100-Second Teaser Streamed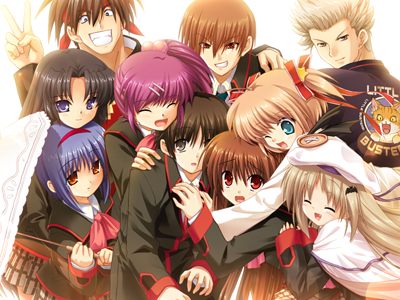 On Sunday, the official website dedicated for the anime adaptation project of Key's Little Busters! novel opens up with a promotional movie. This just confirms the upcoming premiere of the animation, which the voice actress Tomoe Tamiyasu has hinted on her Anime Expo Guest profile in her June blog post. The profile has listed the Fall season premire of the animation, however, this clue did not last long. Tamiyasu then deleted the information on her blog, although the date still remain stated in the Anime Expo main webpage.
Hatsukoi Limited and Baby, Please Kill me! director Yoshiki Yamakawa will be leading the anime project in the studio J.C. Staff. Michiru Shimada of the titles Shugo Chara and Jewelpet Twinkle will be taking charge of the scripts, and Haruko Iizuka of Inu x Boku Secret Service will be adapting the original styles created by Itaru Hinoue and Na-Ga for the adaptation.
The well-known cast of Key's adult game will be the same original members playing the role for the anime. This time, however, Yu Horie and Sora Tokui will be joining the team as Riki Naoe and Sasami Sasasegawa. Alongside this, the main cast for the show will also include this stellar listing:
Nobutoshi Canna as Masato Inohara
Yusei Oda (Katsuaki Arima) as Kengo Miyazawa
Natsumi Yanase as Komari Kamikita
Keiko Suzuki as Haruka Saigusa
Naomi Wakabayashi as Kudryavka Noumi
Ryouko Tanaka as Yuiko Kurugaya
Shiho Kawaragi as Mio Nishizono
Additionally, Tamiyasu of Recorder and Randsell will be the voice actor for Rin Natsume, the story's heroine, while Hikaru Midorikawa will take the role of her older brother and the leader of the group, Kuousuke Natsume.
Little Busters! promises an adventurous journey with this familiar visual novel characters. For those who want to see a sneak peek on what this is all about, check out their promotional video below: